Why do we give significant importance to Nutritional meals at school?
White Lotus supports school meals at Garden of Peace Nursery and Primary School that is run in rural village at Vellore District for the education of children belonging to socially and economically backward village families. The parents of children are daily laborers at construction site, brick making factories or farming. At school we provide children their right to education, participation and health. As a continuing initiative we have provided children with Morning porridge and Mid-day meals understanding
That most of the parents of students go for work in the very early morning and are not able to ensure their children have breakfast and which is a very important meal of the day.
As a part of providing good balanced diet at school, Rice or Raggi Porridge is given between 10:45 am to 11:00 am in alternative days. The porridge is healthy, easily digestible and contains carbohydrates and proteins and also hydrates the body. Iodine supply through salt is also provided.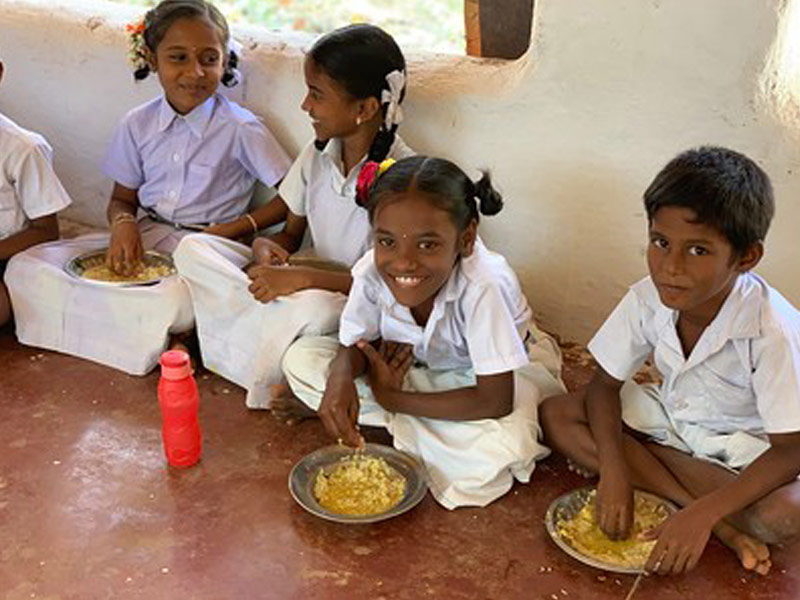 Children's Midday meals for all students are provided at school. Class recess is between 12:30pm to 1:00 pm. Good quality rice is given with vegetable-Sambar made from pulses. The rice is mixed with the Sambar hence all children are provided with sufficient proteins, vitamins and carbohydrates. The food served is not very spicy and edible by small children too.
All children get to eat the same food at same time and in sufficient quantity, hence there is no division amongst children. They bring their plates and glass and are taught to wash them, creating an order and discipline in them.
The 'Student Food Minister' at Garden of Peace School oversees quality and quantity of food given to children and any issues pertaining to food is brought up during Children Parliament session. They also ensure food is not wasted by the children which develops a sense of respecting the value of food.
Children in school participate in agriculture activity at school. They grow and care for vegetables and plants inside the school grounds. The vegetables are grown by the kids organically and consumed by them giving a sense of satisfaction and happiness.
Please raise your hand
In creating a more equitable society providing quality education and health services for all.