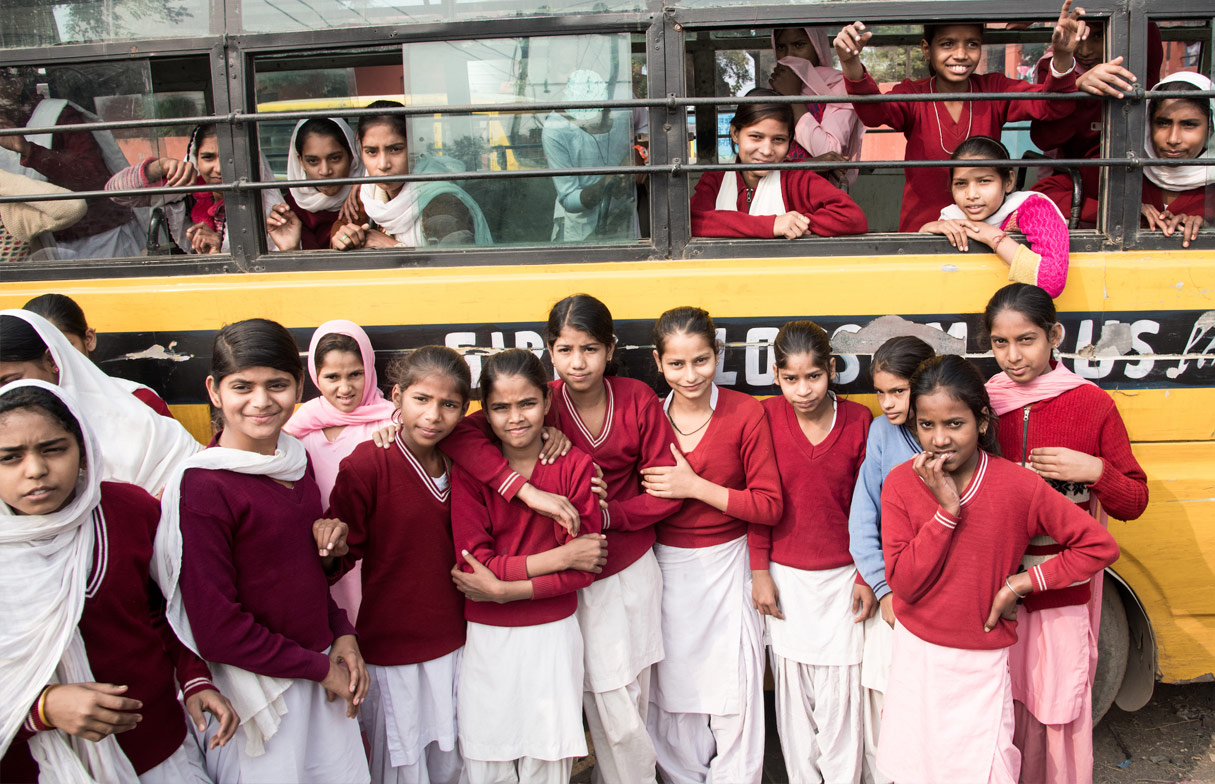 Providing access to girls that will drop out due to distance from secondary schools to village and perceptions, real and imagined, of dangers to and from school, even on bicycles and even accompanied by adults.
While enrolments appear to be up, the drop out of huge numbers of girls studying in Mewat's government schools and in fact in schools across the nation, remains a huge and to a large extent, hidden problem. Most villages have a primary school but only some 40% have classes up to grade 8 and parents will simply not send their girls outside their own village largely due to perceptions of security.
As the quality of education and infrastructure in schools improves and the advent of functional SMCs creates a strong link between communities and their schools, there is an ever increasing number of parents at Mewat seeing government schools as an option with and with that, there is an ever increasing number of girls across Mewat waiting to join Blossom Bus. In the last year we've been able to increase the number from 100 to 150 and will increase to 300 girls on Blossom Bus for the 2013-14 academic session. Parents are now allowing their girls to stay in school longer and the impact on other girls in BB villages is evident as they are then also keen to attend schools. There are now many BB girls attending Grades 9 and 10 and the ripple effect is also beginning to have an impact on the general population.
There is really no limit to the demand for safe transport to school for girls at Mewat. Many Districts across India will of course be the same. The fact there is a clear and present danger to the safety of girls in most rural areas and across the metros has never been more apparent and a huge movement has grown up in the past few months in support of reform toward protection for girls. In the mean time girls are dropping out in millions between lower and upper primary due to lack of a neighborhood school to serve. For our part, we are continuously advocating for a School Bus system to be implemented across the State of Haryana. Boys alone and in gangs pose a great threat of sexual violence to girls going to school. Most recently, villagers in the Bharatpur District of Rajasthan where we are now working since 2013, confirmed their girls are not safe travelling to school on bicycles and that they will only send them by some kind of vehicular conveyance.
We are planning to provide transport to 300 girls in Haryana and Rajasthan in the next academic session starting from April 2013.
Happy Student Interviews
Pinki daughter of Surendra from Bhanguri village tells us, "I feel privileged to find opportunity to ride on Blossom Bus to attend college and I'm very excited to know that next year I'll be a University graduate in Commerce. I was riding on Blossom Bus for last five years, firstly to school at Aharwan and then on to college for the past two years."
According to Pinki, she belongs to middle class family where very few parents send their daughters to High Schools and college is a distant dream. Some people are jealous of girls being attending high school or college and try to malign them so they drop-out as their own children were not able to get education because of various reasons including lack of willingness in their parents. These things discourage parents who wish to educate their daughters and availability of safe transport namely Blossom Bus, encouraged my parents to fulfill my dream.
Pinki also dreams of getting a government job, which is rare for girls from remote villages. She has already defied the local myth, 'education is of no use as there are no jobs available for graduates', because she already has a job teaching a remedial class of children from her village after school under 'Education Quality Addition' (EQU+) program of Lotus Outreach and for which she earns about $100 a month.
Pinki tells us, "I wish with all my heart that Blossom Bus continues to serve our villages for a long time as it has helped hundreds of girls in Mewat area to attain higher education after which they've become a big moral and financial support for their families."
Komal daughter of Man Singh from Bhanguri village has joined college this year after graduating from high school and tells us, "I want to become a Chartered Accountant after doing my graduation in Commerce. My family first refused to send me to college as they wanted me to get married right after graduation as they were scared for my safety while traveling about 20 kilometers from village to town."
"I was personally very scared of getting married at early age as I wanted to study further in college to fulfill my dream of becoming a Chartered Accountant. I was able to convince my parents with assurances from the Blossom Bus Coordinator and with the fact 40 girls are now attending college traveling on BB while there has been no case of any mishap or abuse of girls on Blossom Bus during last six years. My parents finally agreed and I am over the moonto be moving forward toward my dreams!!"
Komal says that she will certainly continue her studies after college and is also very hopeful of continuation of Blossom Bus for coming years given it has now become a source of inspiration and a resource for safely reaching educational institutions remote to their villages.
Komal says that her parents are also happy now as they do not listen to the people talking about the unsafe environment in the towns for young girls having now realized traveling on Blossom Bus is safe and beneficial for girls.
Lokesh daughter of Mool Chand from village Bichpuri has joined college this year after traveling on Blossom Bus to School for two years. One member of her family is in army and he encouraged her to go for higher education otherwise her parents were very seriously thinking of getting her married after passing school. She wanted to study further as she wants to become a university graduate so that she also could get a job like her uncle.
She wanted to be different from the village girls who are rarely able to pass high school. Most of them study upto grade eight from the village school and get married at the age of 15-16. By the time they reach 18 years of age they have one or two children and the life then becomes hopeless for anything except working 16 hours a day at home and at the field.
Lokesh does not want to live that life and wants to become a university graduate and get a good respectable job. She has a male member in the family with a respectable job already and she wants to become a female member in the family with a respectable job, may be first in her village.
Lokesh is very ambitious about her studies and is very serious also about her future. Lokesh is also working as a remedial teacher in her village teaching 30 children at the local government school after school hours. She feels proud when the villagers call her "Madam" of their children. She feels that she has already become a respected person in the village as she is teaching children without charging any fee from them as she is being paid for this by Lotus Outreach EQ Program.
Read some more Case Studies
You must read each of the story below which describes how White Lotus Trust is working silently to make a difference in the lives of these girls by providing important means to educate them. This has not only helped them get into the schools using our Blossom Bus prgram, but are now breaking the shackles of age old traditions of not having any education to girls in these villages.